News and Charts for Monday …
The Columbus Day holiday will make for light trading, but here are some things on my radar.
Australia Dollar Reaches 23-Year High, New Zealand Gains on Carry Trades The Australian dollar rose to the strongest in 23 years and its New Zealand counterpart gained for a third day as U.S. and Asian equity markets rose to records, giving investors confidence to buy higher-yielding bonds.
Aussie Poised to Follow Loonie to U.S. Parity as Rates Rise, Coal Rallies Anyone who likes the Canadian dollar for its resource-rich and balanced-budget economy should be embracing the Australian dollar for the same reasons and the additional prospect of rising interest rates, according to the bond market's biggest international investors.
Canadian Dollar Strengthens to 31-Year High After Job Growth Accelerates Canada's dollar rose to a 31-year high on speculation the Bank of Canada will refrain from cutting interest rates amid signs of economic strength.
U.S. credit card pitches surge Mintel International Group, a Chicago-based consumer, media and market research firm, said in a recent survey that direct mail credit card offers to subprime customers in the United States soared 41% in the first six months of this year compared to the same period in 2006.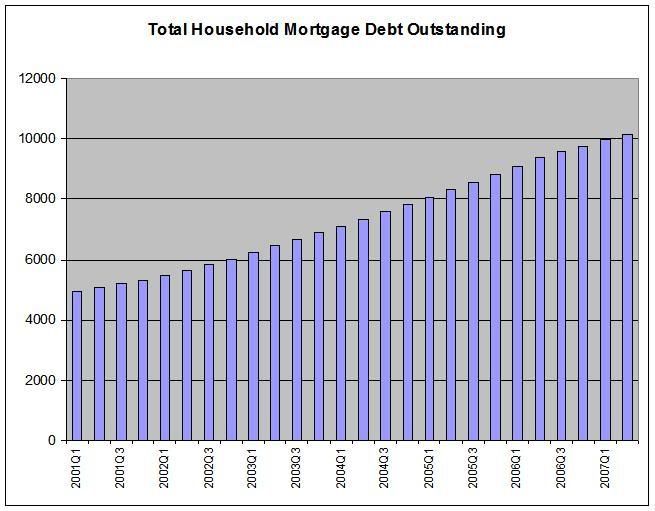 According to the Federal Reserve's Flow of Funds total household mortage debt outstanding has increased from $5.325 trillion in the fourth quarter of 2001 to $10.143 trillion in the second quarter of 2007. In other words, US households have almost doubled their mortgage debt outstanding during this expansion.
Oil Poised to Drop for First Time in Year as Price Gap to Gasoline Widens The widening gap between crude oil and the relatively low price of gasoline is signaling the first quarterly decline in oil prices in a year.
Oil prices barrel ahead toward 100 dollars: analysts Oil traders appear to have cast aside concerns that high prices will lead to a global recession, and some analysts say the Organization of the Petroleum Exporting Countries has done little to bring prices down. "It seems like the world is willing to pay more money for oil, it does not seem like it is slowing down growth," Tsocanos said. "OPEC does not have really a lot of capacities and so they could not increase production if they wanted to."
China's net oil imports up 18 percent China's net imports of crude oil rose 18.1 percent in the first eight months of the year as the booming country's voracious energy demands continued to grow, state media reported on Sunday.