News For Thursday -- Gold, Oil & More
I'm very busy putting the finishing touches on my new oil report. which comes out July 1. Here are a few things to read ...
Tim Iacono over at Seeking Alpha
wonders if
gold is about to make its next big move higher
. And he has chart eye-candy ...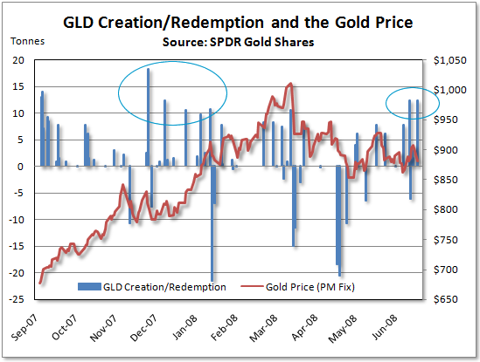 Are we really heading for a shooting war with Iran?
The Jerusalem post
reported Tuesday that former U.S. ambassador to the U.N. John Bolton said that Israel is likely to attack Iran in the time between the November presidential election in the U.S. and the inauguration of the new president. Mr. Bolton also said that he does not believe the U.S. will participate in the attack.

However, CBS thinks the Israelis are trying hard to get the Bush Administration to mount an attack on Iran's nuclear facilities.

What Saudi Arabia giveth, Libya takes away.
Libya May Cut Crude Oil Output Because Market Is Oversupplied, Ghanem Says
Libya may cut oil production because the market is oversupplied, the nation's top oil official said.

Sean's note -- this is another reason why people shouldn't get so worked up about drilling in ANWR. Let's say it holds oil beyond our dreams and floods the markets. OPEC will just cut production to keep prices high.
Here's a blog I find interesting:
BakenShale.blogspot.com
Not everyone is bullish on commodities in the short term. Marc Faber, publisher of the Gloom, Boom and Doom Report, says
that Commodities will fall in the next 6 months After a 7-Year Rally.
Commodities face a ``correction'' after a seven-year rally, which will help ease global inflation, investor Marc Faber said. Longer-term, he thinks the commodity bull market will last 20 years.
Intellichoice says the best car to own
in these expensive-gas times, based on total cost of ownership, is the Toyota Corolla. Personally, I think
my next car is going to be a Honda Civic.
The Energy Information Administration expects that
global energy demand will grow by 50 percent
over the next two decades.
Labels: gold, natural gas, peak oil