News You Can Use -- Oil, Inflation and More
IEA Cuts 2008 Oil Demand Forecast for Fourth Month
The forecast was cut by 390,000 barrels a day to 86.84 million barrels a day, from 87.23 million barrels last month, the Paris-based agency said today in its monthly report. After today's revision, which "may not be the last,'' the group expects world consumption to grow 1.2 percent this year, the slowest expansion since 2006.
XX Note -- at the same time it was predicting oil use would go down, the IEA asked OPEC to pump more oil. If I was in OPEC, I'd be wondering what the IEA guys are smoking.

Also, the IEA's new
Oil Market Report
is out this morning. April world oil supply was down 400 thousand barrels per day from March to 86.8 million barrels per day. And April's production was also down 700 thousand barrels per day from the high in February.

Average gas prices set record at $3.72 a gallon

The average price of gasoline jumped to $3.722 a gallon, the government said Monday, up a hefty 10.9 cents in a week and the fourth consecutive record. Diesel, the fuel of semi trucks, delivery vans and railroad locomotives, shot up 18.2 cents to $4.331 per gallon, guaranteeing higher shipping costs that could boost the price of everything from TVs to tostadas.
U.S. import prices up 1.8% in April as petroleum gains
The price for imported petroleum rose 4.4%. The price for non-petroleum products rose 1.1% for the second consecutive month -- matching the largest one-month gain for the index since these prices were first published on a monthly basis beginning in December 1988.
XX Note -- the real story -- barely covered in most mainstream media outlets -- is that year-over-year import price inflation was literally off the charts in April, up a stunning 15.4%. This is the fastest rate of import price inflation in recorded history
Nissan Plans Electric Car in U.S. by 2010
In another deal -- maybe a test run for its US roll-out -- Nissan teamed with Renault to sell electric cars in Israel and Denmark. Renault will provide the cars and Nissan will supply lithium-ion battery packs.

It's a Small-Car World
Here is a neat gallery of the small cars that are coming to the American market in the next couple years. Unfortunately, CNN doesn't include the gas mileage on each of these.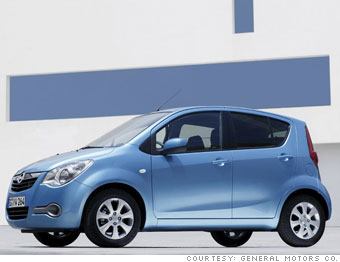 One disappointment that is indicative of how deeply American car makers are
screwing themselves is this
one ...



Opel Agila




Not just a concept, the Agila will go on sale in Europe soon.
Opel cars are sold in the U.S. as Saturns, but GM has no plans introduce the Agila here.

Yeah, GM is showing the brilliance and forward thinking that American car manufacturers are known for.


Steel once again a hot commodity
Don't expect additional supplies of steel to ease the situation, Parr says. There are a few new steel mills coming online, but there's still nowhere near the capacity to meet the current level of demand, Parr says. "We're five years into this," he says. "Basic materials cycles last decades."


Gold Drops as Dollar's Rebound Curbs Investment Demand for Precious Metal
Gold declined for the second straight day as the dollar rebounded against the euro, curbing demand for the precious metal as an alternative investment. Silver also fell.
Labels: commodity supercycle, crude oil, inflation