News You Can Use for the Weekend
Mexico Tries To Save Big, Fading Oil Field

From January 2006 though February 2007, Cantarell lost a staggering one-fifth of its production, with daily output falling to 1.6 million barrels from two million.
The oil industry was stunned. Cantarell, which currently produces one of every 50 barrels of oil on the world market, is fading so fast analysts believe Mexico may become an oil importer in eight years. That would batter Mexico's economy,
which depends on oil exports to fund 40% of its government spending.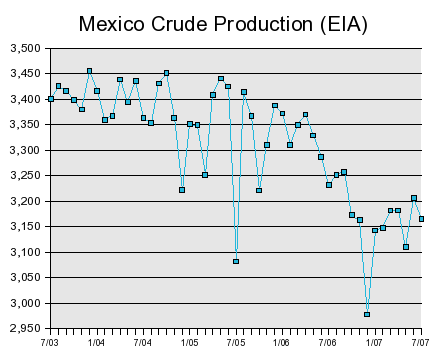 With mounting evidence that climate is warming, we show that such warming will have substantial impacts on agricultural yields by the end of the century: yields of three major crops in the United States are predicted to decrease by
25-44% under the slowest warming scenario and 60-79% under the most rapid warming scenario in our preferred model.



'Strong Possibility' Gas Will Rise to $4




"Things are looking pretty bad for the upcoming summer driving season," said Flynn, citing a new government report showing that the U.S. stockpiles of gasoline fell by 5 million barrels in the past week, much more than analysts were expecting. Today's report shows that the national supply of gas is at the low end of its average range for this time of year, meaning the United States will have less gas in the tank before the peak summer driving season in the coming
months.



And finally ...




Looks like a triple-top to me. How about you? This is the latest data from the Energy Information Administration's
International Petroleum Monthly
. Hat-tip Coilin at theoildrum.com for summing it up: "World production, according to the EIA, was down by nearly 200,000 bpd in January compared to December. The reduction in OPEC production was relatively small - just over 250,000 bpd (excluding Angola) - if the EIA is to be believed. There was, apparently, no reduction in Saudi production compared with December."