Sunday Reading
Here's an interesting read at SeekingAlpha.
Global P/E Ratios: How the US Stacks Up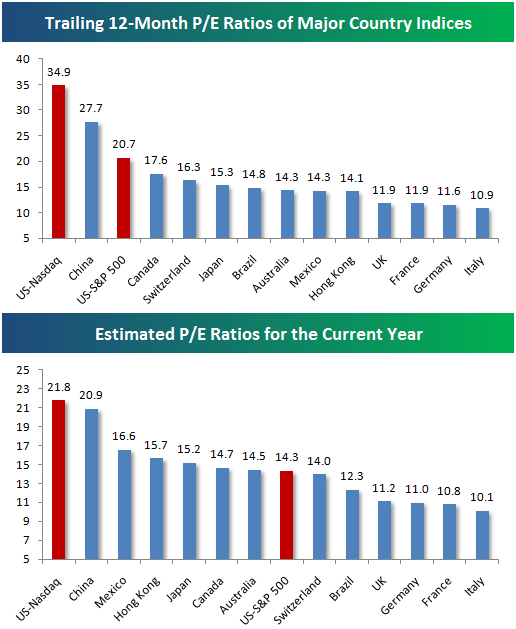 The trailing and forward P/E ratios of the S&P 500 and Nasdaq are high compared to the valuations of other markets in other countries. While it has historically had high valuations, the Nasdaq's current trailing and forward P/E ranks highest among 12 other country indices, including China's Shanghai Composite.
Precious Metals: Hot for all the Wrong Reasons
Platinum prices have been at record highs above US$2,000 an ounce, and in early March were up more than 40% from the start of the year. It's all thanks to South Africa. The country accounts for about 80% of world production of platinum, which is used in jewelry and automobile emissions controls, among other things. But the industry is plagued by safety issues and power supply disruptions that saw all mines shut down for five days this January. The situation is exacerbating the shortage of a precious metal already made scarce by demand that's higher than ever.

Hunters Comb the Globe for a Hot Metal
Mr. Danne and thousands of explorers like him are the bedrock of a global mining industry struggling to keep up with booming demand. As demand soars in China and other emerging economies, the world is clamoring for minerals and metals to build everything from sewer systems to power plants.

The Glitter Factory
China's gold output has climbed nearly 50% over the past five years; the total surpassed 276 tons last year, enough to make China the world's largest producer of the precious metal, for the first time supplanting South Africa, which had been No. 1 since 1905. This isn't a fluke. China's surprisingly high reserves and growing domestic demand mean the country will likely remain the industry leader in coming years. Says Paul Atherley, managing director of Leyshon Resources, an Australian mining company: "China is going to become dominant in the world gold industry as a producer, consumer and explorer."