Wall Street Journal Jumps on the Gold Story
There was an interesting story on gold ETFs in Saturday's Wall Street Journal online. Some excerpts ...
Since early 2003, at least eight gold-related ETFs have been listed world-wide. Similar ETF offerings have also cropped up for metals such as silver and platinum.
The biggest is the streetTracks Gold Shares ETF,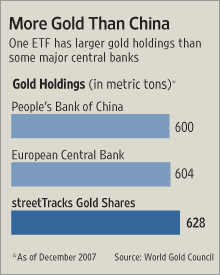 sponsored by the World Gold Council, a mining-industry group. Its holdings are valued at more than $16.8 billion, more than the valuation of General Motors Corp.
The fund sat on about 628 metric tons of gold last month, according to the World Gold Council, more than the 600 or so metric tons in Chinese central bank reserves and 604 metric tons with the European Central Bank.
In all, the eight ETFs held 834 metric tons of gold through November, according to the World Gold Council.
According to CPM, gold demand among private investors prospecting for returns has nearly doubled to more than 40 million ounces a year since the end of 2001. By contrast, global demand for gold to make jewelry and other items has fallen nearly 13% during the period. Gold's price in the period more than tripled.
Here are some other charts ...
Driving the move is the fall in the US dollar …