What I'm Reading Now ...
Story #1: This is why I don't recommend stocks in Mongolia (anymore) ...
You know my view on this: Words mean nothing in the oil market. Let's wait and see before we start celebrating.
UPDATE: The new IEA oil market report is out, and it says oil production up by 1.41 million barrels per day in October for new record of 86.43 million barrels per day.
Story #4: Minyanville (a financial site that is also a fun read) is giving a double-sell signal on gold ... based on appearances of Mr. T. I wish I was making that one up. Alternately, you might want to read: Gold: The Crash Market Stock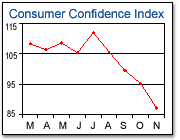 Story #5: Consumer confidence is falling off a cliff. U.S. consumer confidence fell to its lowest level since Hurricane Katrina in the fall of 2005, the Conference Board reported Tuesday. The index fell almost seven points, to 87.3 from 95.2, well below the 90.2 economists had forecasted. It was also the biggest one-month decline in two years.
Story #6: Fuel Quest May Create Food Crisis. THE world is in danger of running out of basic foodstuffs, according to a leading Australian economist. The shortage will create further dramatic price rises in essential grains such as wheat and corn, accompanied by a tightening of supply, says ABN Amro Morgans chief economist Michael Knox. In the 2004 financial year, corn consumption was 647 million tonnes; this financial year it is expected to be more than 760 million tonnes – an increase approaching 20 per cent in just four years.
Labels: crude oil, global warming, gold, uranium, US economy